Reshaping expectations requires flexibility and grace. It requires that we let go of "perfection" in order to find satisfaction in progress that is being made imperfectly. My life is a master class in this philosophy, I think. Take my latest blogging venture… I said I wasn't labeling this microblogging experiment as anything specific, because I didn't want to immediately fail at it by trying to define it. Which is good because if I thought I was going to blog every day in December, I … haven't done it. Instead I went to Disneyland. Which was excellent, btw.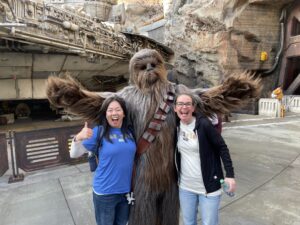 As a creative coach, I have spent a lot of time considering goals and how to help others (and myself) create actionable ones and reshape expectations such that we can achieve them. What I've come to realize is, we could all stand to go a little easier on ourselves. We don't have to bleed to succeed. What if we could give ourselves permission to just do a thing because we love it and it brings us joy, rather than because we need to check off some meaningless milestone marker for the sake of making sure all the boxes are checked. What would that be like?
reshaping expectations
I am a recovering overachiever… which means that I have (and tbh still do) set my expectations far too high for myself regularly, and then been sorely disappointed, anxious, and depressed when I didn't live up to them. I spend most of my time worrying about what I should be doing or am not doing and missing being present. I'm ready to stop that now, to stop time traveling (to the future where I've done the thing, or to the past where I made that last mistake that will keep me from doing the thing), and be Here. Now.
Reshaping expectations and altering worldviews is HARD WORK. But in order not to miss out on joy, it's necessary work.